You know those days when you sort of feel like you're firing on all pistons as a mama? When you pretty much have things under control and you're not easily rattled and you manage to meet your family's needs without feeling like you're losing your mind?
Well. Today was not that kind of day for me. Today was the opposite of Effective Parenting. Today was Parenting FAIL. Today was PMS (which, by the way, SEEMS TO GET WORSE EVERY YEAR) mixed with a kindergartner who didn't just push my buttons – he sat on them. And then, when I couldn't take it anymore and I said something to the effect of, "PLEASE LEAVE MY BUTTONS ALONE NOW, THANK YOU," he was all, "What? I'm sure I don't know what you're talking about, beloved-mother-of-mine. I'm nowhere near your buttons. Why, I didn't even know you had buttons."
And then my head exploded.
Anyway, thanks to our rocky morning and afternoon, I spent a chunk of the day feeling like the worst mama in the world, and the kicker was that feeling that way ended up just making me irrationally angry because of the aforementioned HORMONAL IMBALANCE THAT HAS COME TO ROB ME OF ALL PLEASANTNESS.
It wasn't until I was cooking supper that I finally started to feel the tension leave my shoulders, and while the little guy was sitting at the kitchen table I caught a glimpse of his face that reminded me of what he looked like when he was about 18 months old.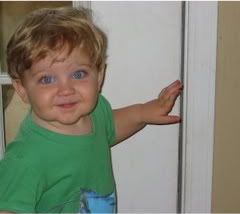 I found an odd sense of comfort in the fact that even though we may have an occasional bad day, I really can't stay frustrated with that boy. Not for any real length of time. He's smart and funny and tenderhearted. He's delightful. I love him to pieces. And hello, DO YOU SEE THOSE CHEEKS? THOSE CHEEKS ARE DELICIOUS.
Not to mention that if we made it through that 18-24 months phase, we will make it through this one, too. Because do you know what this phase has over that one? THE ABILITY TO REASON – which, my word, cannot be overestimated.
So by bedtime we were back on fine and harmonious terms again, and after we read a book I said, "You know what, buddy? Today was rough. But we're family and we love each other and we forgive each other and tomorrow will be better. I'm so glad I get to be your mama."
And God bless him, after a day that had taken its toll on both of us, he hugged me and said, "Thanks, Mama. I'm so glad that you're my son."
Quite frankly my mood was so erratic today that I wouldn't blame him for being a smidge confused, but when he realized what he'd said, he started to giggle. Got downright silly, in fact. And I'm so grateful that we got to end the day with a little bit of laughter. We both needed it.
And tomorrow will be better.
It really will.
I just know it.