I knew that motherhood would bring its share of challenges.
Sleepless nights.
Potty training.
Terrible threes (I don't care what anybody says; the twos have NOTHING on the threes).
First day of kindergarten.
Etc. and so on and so forth amen.
But I have to say: nothing – NOTHING – could have prepared me for a challenge I've faced over the last couple of months. It blindsided me – hit me out of the blue – and even now the mere thought of it makes my heart race and fills me with a lingering sense of dread.
I'm talking, of course, about Cub Scout badges.
OH MY WORD INTERNET WHY DIDN'T YOU WARN ME?
Now granted, I don't really know how to sew. Even still, I felt certain that I could attach the little guy's badges to his uniform before his first den meeting. But just in case I couldn't – JUST IN CASE – I made sure that I had a back-up plan. And my back up plan was an industrial-size pack of safety pins.
After ONE HOUR of trying to sew on badges that are apparently made of an impenetrable material that can only be attached to fabric with a hammer and nails, I managed to tack on the smaller badges and run a single three-inch long stitch across the biggest badge. I knew that the badges wouldn't hold for long, but since I didn't have a drill and/or a set of grommets nearby, I decided that I'd try to use the safety pins.
The safety pins, however, were completely uncooperative. I tried to push them through, only to watch them bend into unrecognizable shapes. I'm sure that a more experienced seamstress could have made those safety pins submit, but all I could seem to get them to do was to jab my thumb and and consequently make me VERY ANGRY.
Despite my frustration, I was bound and determined that THE BADGES, THEY WOULD NOT BEAT ME, and that is why I sent my child to his first scouting event with badges that were attached to his sleeves with a tiny bit of thread and an obnoxious amount of Scotch tape. We like to keep things klassy, you understand.
REMEMBER: I DO NOT KNOW HOW TO OPERATE A NEEDLE.
The badges survived the first few meetings (I KNOW!), but tonight I knew that I had to step it up a notch. The biggest badge was just about to fall off, so I took a deep breath, grabbed my box of safety pins and summoned all of my courage. It was time for action.
And do you know what happened? DO YOU KNOW?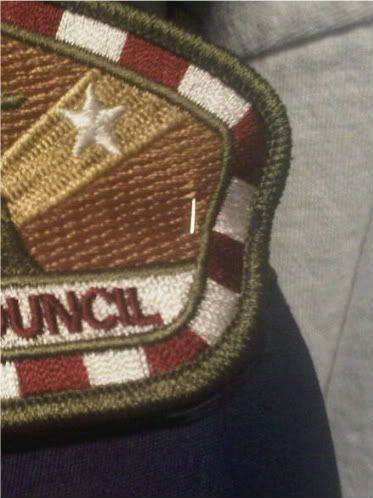 SUCCESS!
I don't want to overstate it, but I'm pretty sure that it's the crowning achievement of my life as a mama.
I don't know when I've ever been more proud.