This is a sponsored post from Chef Boyardee and BlogHer.
Once our little guy started eating table foods, one of the things that concerned me the most was whether or not he was going to be a picky eater. Since I was raised in a you-eat-what-you're-served household, I was bound and determined to do the same. But what if he balked? What if he wouldn't eat his vegetables? What if I turned into a short-order cook?
Needless to say, these prospects did not fill me with joy.
But as it turned out, I need not have worried. Sure, we had a rough go of it a time or two when grown-up food textures were just too much for his two- or three-year old palate. For the most part, though, we've fared remarkably well with very, very few food-related battles. I certainly don't claim to have all the answers (after all, there's only one child in this house, and he's of a super good-natured variety), but there are two things in particular that worked for us: 1) Try every single food on your plate (every single meal) and 2) You eat what's prepared for you. As much as I love to cook for my family, I'd drive myself crazy trying to take requests from a seven year-old every single night (not to mention that our weekly menu would consist of little more than chicken tenders, pizza and cheeseburgers).
As a result of our two really simple mealtime rules, we have a child who will eat almost anything for supper. I think the key is to start early with the expectation of eating well-rounded, healthy meals and to be consistent with that expectation. We definitely have ongoing challenges in terms of our parenting, but thankfully mealtime isn't one of them. This mama is very grateful for that.
But whether your kids eat well or not, it seems like every phase of a child's life requires putting together a whole new parenting puzzle. Right now, for example, our little guy is doing a great job getting his homework done in the afternoons, but keeping his room clean is another thing entirely. We've finally reached a point where he keeps it tidy enough to keep the peace, but I can't seem to figure out how to help him be organized. Maybe it's one of those qualities that you either have or you don't (and truth be told, I struggle with the organization, too), but I know his life will be so much easier down the road if we can cultivate some good habits now. I just can't seem to figure out how to get those good habits off the ground.
I'm learning to take my victories where I can find them. Today, for example, has been a pretty good day as far as his room is concerned.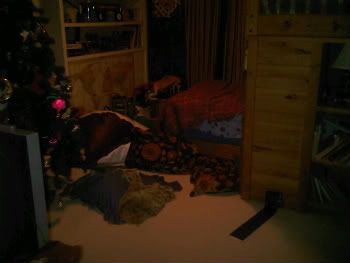 I can live with a few pillows in the floor and a bed that hasn't been made up yet. I just don't fare so well when the floor looks like a lake of books and action figures.
So what about you? Care to share your parenting secrets? If you'd like to be entered to win a $200 Visa gift card courtesy of BlogHer, tell us one of your best parenting tips in the comments. How do you teach your kids to be organized? How do you manage homework? How do you get them to eat well? How do you handle bedtime? Chime in on one or all of these topics – I can't wait to read your suggestions!
Be sure to check out the BlogHer.com exclusive offers page – you'll find other bloggers there with even more chances to win.
For great tips from moms just like us, sharing experiences, ideas and advice on how to get kids to eat better, visit Club Mum. Club Mum is the perfect resource for moms to learn helpful hints on a variety of topics, which can be applied to their own family. Club Mum is also on Facebook with daily tips, recipes, articles, questions and a terrific and active community!
Rules:
No duplicate comments.
You may receive (2) total entries by selecting from the following entry methods:
a) Leave a comment in response to the sweepstakes prompt on this post
b) Tweet about this promotion and leave the URL to that tweet in a comment on this post
c) Blog about this promotion and leave the URL to that post in a comment on this post
d) Visit the official rules for additional forms of entry.
This giveaway is open to US Residents aged 18 and older.
Winners will be selected via random draw, and will be notified by e-mail.
You have 72 hours to get back to me, otherwise a new winner will be selected.
The Official Rules are available here.
Sweepstakes ends 5 PM PST, December 23, 2010.
This giveaway is now closed.