When my mama was a little girl, her parents built a house on some farmland in south Mississippi. For over forty years they grew all kinds of vegetables, tended cows, raised chickens, and, more than anything else, created a haven for their children and grandchildren. As one of those grandchildren, I can tell you without hesitation that there isn't any place on earth that holds sweeter memories for me.
I was in the sixth grade, I think, when Mamaw and Papaw decided to sell the farm. It was becoming more than they could manage, so they bought a house "in town" (if you consider a community with three stop signs a town, that is). We all missed the farm like crazy, and we grieved when their old farmhouse burned down several years later. I was just a teenager when it happened, and even though Mamaw and Papaw didn't live there anymore, it felt like the end of an era.
It's no secret that I've never been much of a dreamer; I've never made a bucket list, and I don't think a whole lot about what I'd like to do down the line because I'm way too fascinated by what's going on in the here and now. But there's not a single week that passes when I don't talk about wanting to buy a tiny little piece of what used to be my grandparents' farmland. I can't really explain it, but my soul craves that place. My sister and my cousin Paige feel the same way.
So yesterday morning, Mama, Alex, and I went on an impromptu family field trip. Alex and I were already in my hometown, so Mamaw and Papaw's old place wasn't that far away. For some reason I felt like I needed to see that land – and I wanted Alex to meet it for the first time.
Once we turned off the interstate, Mama narrated the next fifteen or so miles. She still remembers who lived where when she was a little girl, and she told us all about different houses, different families, different times. Once we got to Mamaw and Papaw's road, it took me a few miles to get my bearings, but I finally found what used to be their driveway. Alex and I had to climb over a gate to get onto their old property, but since Mama can still name every single family who lives in that neck of the woods – and since no one actually lives on the land anymore – we felt like it was okay to do a tiny bit of trespassing.
And I'm really glad that we did.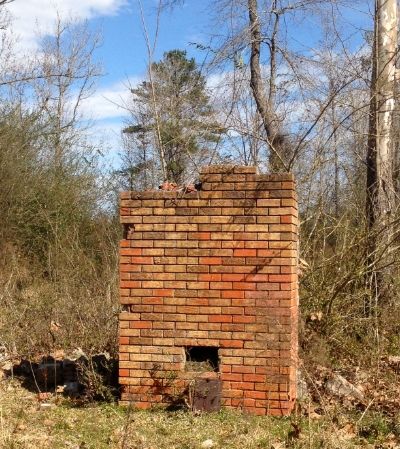 When I was just about the age that Alex is now, I loved to play with the cleanout door on the fireplace. The fireplace was part of an addition to the house, and even though the cleanout door was relatively new, it squeaked like crazy. I didn't expect to see it again yesterday, but it was an instant memory flashback as soon as I caught a glimpse of that little iron door.
For some reason Mamaw's cast iron kitchen sink was on top of the porch slab, and I might have been tempted to load it in the back of my car if there had been any way to move it. It's pretty much attached to the spot where it sits – I couldn't even budge it. But I can still picture her pots and pans on top of the drainage rack, and I remember how I was never strong enough to turn off the water all the way.
The smokehouse was just behind the main house, and after Papaw quit using it as an official smokehouse, it became the place where he parked one of his tractors and stored his tools. There were mason jars and old coffee cans full of nails, bolts and screws underneath the windowsill, and I used to plunder around in there at least once a visit.
The barn was a few hundred feet behind the house, and if I close my eyes real tight, I can still smell it. Paige and I used to climb up in the hayloft and play for hours. It was an allergy sufferer's nightmare and hotter than fire in the summertime, but we didn't care. It was a big ole playhouse as far as we were concerned.
When Paige and I would stay at Mamaw and Papaw's in the summer, we loved to jump across the cattle grates and walk through the chicken houses. Papaw built them back in who-knows-when, and even though I used to be scared out of my mind that one of those chickens was going to peck me to my certain death, I didn't want my older cousins to think that I was a baby (and make no mistake: I was such a baby). We'd run from one end of the chicken houses to the other, and I tried my best to act way braver than I really was. Usually, though, my nerves would win, and I'd find some reason to go back to the house and let Mamaw fix me some sweet tea.
After Alex and I finished walking around yesterday, we climbed back over the gate, hopped back in the car, rode around some more, and eventually made our way back to my parents' house. And even as we drove back to Birmingham late yesterday afternoon, I kept thinking about how surreal it was to see that those buildings Papaw built were still standing after all this time.
But they were. They are.
And if you look really closely, you can see that the front steps are still there, too.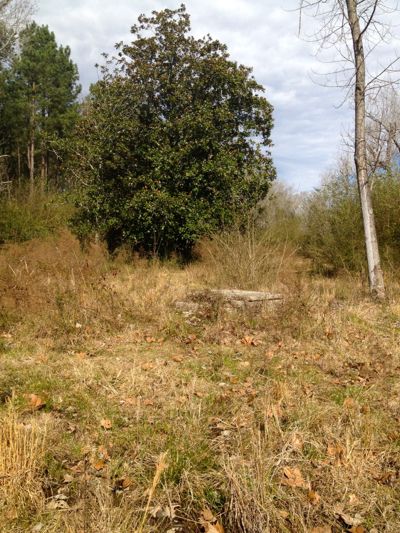 Something about that feels just right.
I hadn't set foot on that land in over twenty years.
But somehow it still feels like home.