Well, the last few days have been the most fun.
And this is where Martha would say, "They've been fun! Just more fun! You have no idea how much fun!"
Friday night we went to some of the high school baseball state quarterfinals, and since our school's team was playing in a double-header, we pretty much spent the whole evening at the baseball field. I don't know where I have developed my affinity for Friday afternoon baseball games in the springtime, but I am convinced that there is nothing better or more relaxing or more enjoyable than sitting under some green leaves and some blue sky and cheering for your people. I just adore it.
The second game wasn't over until almost 9:30, so it was later than normal when we got home and pretty much collapsed in the bed. Saturday morning I woke up with plenty of things to do, but instead of taking care of any of those things, I played my hidden object game instead. I realize that it would be nice if, say, all the towels in this house were clean and folded, but the good news is that I helped Dana Knightstone solve the murder of Gabriela Montez, so I believe we can all rest easy now.
Eventually I got dressed so that I could go pick up Melanie from the airport, and after we got back here ("here" would be my house, as opposed to, you know, the wildlife and fisheries center or some other unlikely option) and visited for just a few minutes, it was time to leave for our book signing.
I'll give you one guess as to what Mel and I never thought we'd be doing when we met each other 8 1/2 years ago: going to a book signing. Well, I mean, we might have gone to someone else's book signing, but we certainly never thought we'd be doing the signing ourselves. Sure enough, though, we got to sit down side-by-side at BooksAMillion and sign some books. Life is kicky and weird.
We had such a good time getting to talk and visit and hang out and whathaveyou (and oh my word do we ever appreciate the folks who took time out of their Saturday night to be there); I felt like the time just flew by. Afterwards we went out to dinner and enjoyed the wedge salad OF OUR LIVES at Dyron's in Crestline Village. SWEET HEAVENLY DAYS it was tasty and totally worth a trip if you're ever in Birmingham and in the mood for the wedge salad of your life. FANTASTIC.
Melanie spoke at a Sav-A-Life brunch on Sunday, and while I'm aware that I've seen her in all sorts of great outfits and clothing combinations over the years, I really do feel like Sunday was a highlight. I did not take anything resembling a quality photograph, but she wore the cutest green and white shirtwaist dress with some killer wedges. Martha would say that she was DARLIN' PLUS. Here's a tiny glimpse that I snapped with my phone not too long after Melanie started her talk.
See? DARLIN' PLUS.
And let me just say this: I got the biggest kick of watching Melanie get on that platform and encourage the men and women who were there. It was hard not to be a little teary-eyed because she really did do the best job. And I'm not just saying that because she's one of my closest friends. OBJECTIVELY she did THE BEST JOB. It was such a treat to listen to her and get to see how much everybody else enjoyed listening to her. That's not my typical vantage point when we're at some sort of event together, and oh, did I ever enjoy it.
But here's what I did not enjoy nearly as much: when I was being very OCD about arranging Mel's signed books in baskets before the brunch got started, and then I picked up one of the baskets and the handle popped off.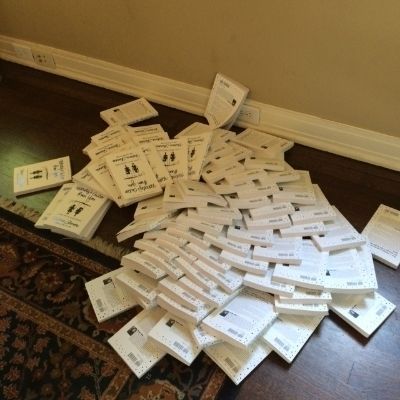 That was not my favorite part.
It was mid-afternoon before we headed home, so we stopped at Whole Foods and selected a fairly embarrassing amount of cheeses and crackers and spreads and etc. We had already warned David and Alex that we wanted to have cheese and crackers for supper, and I have to say that we outdid ourselves. My absolute favorite thing were the parmesan crisps (they're in the cheese section at Whole Foods, and frankly I don't know why any of us would ever require any other food), and Mel's favorite was an olive tapenade that was equal parts salty and tangy and wonderful. The roasted chicken salad was also a highlight, along with a wedge of parmesan that was so good I wanted to name it.
Then we watched Mad Men. And if you happen to watch, too, you'll understand why I was so burdened and bothered for Joan that I had trouble sleeping last night. Also, I do not care for Ferg even a little bit.
Today I had work, of course, but Melanie went with me, and that was an extra fun way to spend the day. A couple of times a month at work we schedule speakers and plan a special lunch for our high school girls – just a way to give them some time with each other and a chance to hear other people's stories – and it made my heart so happy for Melanie to speak at the final lunch for our senior girls. I tend to err on the side of emotional this time of year because I love the kids that I get to serve and know how much I'll miss the seniors next fall, but have mercy it's the neatest thing to see them getting ready to spread their wings.
(I can't believe I just used the expression "spread their wings.")
(Now I feel like I'm obligated to compose several rough drafts of greeting cards and then maybe listen to a medley of moving ballads.)
So that's what's been going on around here. Oh, and there's the whole thing about how Melanie got to experience first-hand the anxious protectiveness that is Hazel, but the good news is that Hazel really did love her new friend from Texas once she accepted the fact that Melanie was not in fact here to kidnap us and steal our stash of chew sticks. In fact, I fully expect that Hazel, Piper, and Mabel will be vacationing together in no time at all. I mean, clearly Piper will have to take charge since Hazel and Mabel will no doubt be worried about their hair and wondering if they packed the right clothes and spending most of their waking moments FEELING ALL THE FEELINGS, but I'm happy that Hazel now knows she can trust her people in Texas.
And finally comma I haven't even covered the part about Kate giving birth and how I'm not entirely convinced that she didn't have that sweet baby a couple of weeks ago (the absence of swollen ankles and pregnancy lips gives me cause for some suspicion), but we'll get around to that topic eventually.
Just as soon as I recover from the the whole Joan and Ferg debacle.
And maybe hum a few more of those moving ballads.
I'm almost certain that Hazel will want to sing along.