So there's this little room off of our kitchen/breakfast area, and we've used it several different ways in the almost five years that we've lived here. I'm a little fascinated/obsessed by what the room was used for originally, but we have no idea. I think maybe it was a small den with louvered doors (that have since been removed) so that MAMA COULD HAVE SOME PEACE, but it's hard to tell. It might have been an office (did houses built in the early 70s have offices?), or maybe it was a morning room.
I have no idea what a morning room is, by the way. I'm just grabbing at straws here.
But as far as how we've used the room – well, first it was a playroom for the little man.
Then it was an office for me when my Hoopty Laptop died.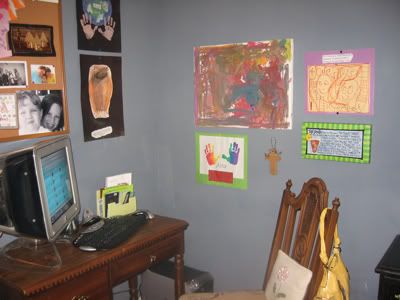 Then it was a slightly redecorated office.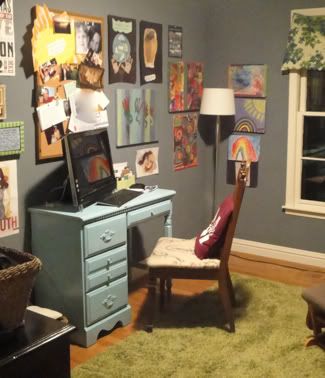 This is riveting, isn't it?
THE ROOM NEXT TO OUR KITCHEN: A PORTRAIT SERIES.
Anyway.
As I've mentioned before, a few months ago D and I decided that the room would be a great place for the eight year-old and his buddies to hang out and watch movies and play the Wii and whathaveyou. That's why I bought a groovy sofa at an estate sale back in May.
You'll be happy to know that we did in fact move it off of the driveway. Moved it all the way into our garage, in fact. Where it's been for, you know, about the last six weeks. -Ish.
Yesterday, however, I finally got around to rearranging/repurposing the room ONCE AGAIN, and I have to say that I think this incarnation is my favorite yet.
But first, a disclaimer: if an, um, ecelectic home environment isn't your thing, then you may find that these pictures make you long for a quiet corner and soft music and some matching chairs. It's just that I like a mix of things, and I especially like color. I operate by the theory that if I'm drawn to something, then that something will work in my house. And if the something has a history, then all the better.
So.
This is from the hallway by the kitchen:
And this is from the breakfast room:
And we should probably talk about that gigantor painting above the sofa, shouldn't we?
Oh, all right.
That painting is one of those things that I saw and immediately loved for no logical reason. I was in my hometown at a flea market where a family friend, Ben, sells some antiques and collectibles and whatnots. The painting was in his booth, so I said, "Ben? Is it wrong that I kind of love that painting? Because I really, really like it."
And Ben said, "Oh, I totally get it. It's so bad that it's fabulous."
So I bought it for very few American dollars. And when I hung it up yesterday, it made me smile.
And yes, I could have moved all the other stuff on the wall, but that would have been a lot of trouble. Plus, everything on that wall means something to me or to our family, so it's not going anywhere.
I also thought about having some pillows made in the same fabric as that little window mistreatment, and I still may do that down the road. I'm still not settled on my throw pillow combination – I have some extras in the back of my car right now, just waiting to return to World Market and Target – but I'll keep working on it. It's already different than it was when I took pictures this afternoon, mainly BECAUSE I'M INSANE.
I had something bolder pictured in my head, but anything bolder will fight with the fabric on the windows. And I'm really sentimental about the fabric on the windows.
I know. I'm weird. But I totally welcome any pillow-related advice you have to offer.
The best part of the whole process, though, was that I had barely finished moving the furniture when A came inside with our neighbor, B. I put on a movie for them, and they settled in like they'd been hanging out in there forever.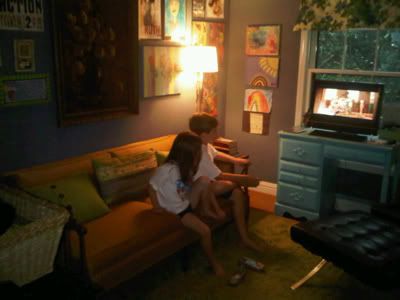 B even moved the ottoman in front of the computer so that she could stretch out across it, and I thought that was perfect – I'd been thinking of moving the ottoman to that spot anyway and letting it work as a little coffee table.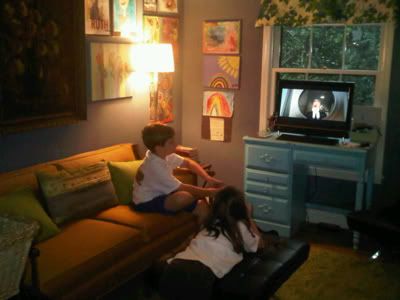 So there you have it. I guess the room is officially a den now. A 1970s den.
And something about that just tickles me to pieces.